Steve and Nancy went for one last paddle on November 15, maybe the last day trip of the year in the BWCA by canoe. The light was low but the colors of late fall were rich with all shades of brown and maroon in the sedge and grasses. Beavers have been busy the last few weeks shoring up the dams and adding branches to the cache for the winter. We saw boreal chickadees, and a rare northern forest denizen at the landing on the Echo Trail. Lots of gray jays glided on their large wings across the frozen aquatic meadows. Gone are all the birds of summer. A few ducks are still on migration, scaups, common mergansers. The usual scavengers, bald eagles and ravens, were out searching for the deer hunters leftovers. We saw a big brown raptor too, with just small white patches on the wings and the characteristic dihedral wing span of a late fall golden eagle. Fishing was a little slow but the best part of Sunday in the BWCAW was paddling a real wilderness lake, not a soul around on sunny Sunday in mid-November. The next time we visit this lake it will likely be for ice fishing and it may be pretty soon. Enjoy a few shots from their journey.
We'd love to hear your stories. Share Here.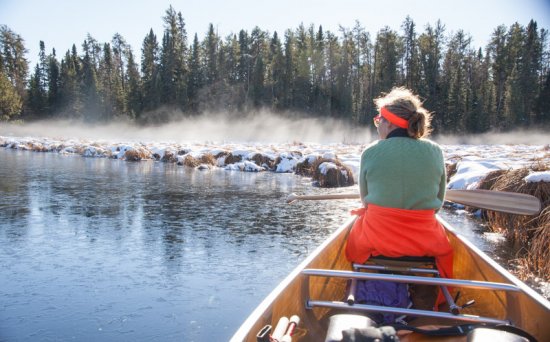 Ground fog forming over cold snow as the mid-November sun started to warm up the air. Thin ice was pretty easy to break and by afternoon was gone, except in the shade.
Ready to go. Just need the stern guy!
Summer or almost winter? This beach sure looks welcoming.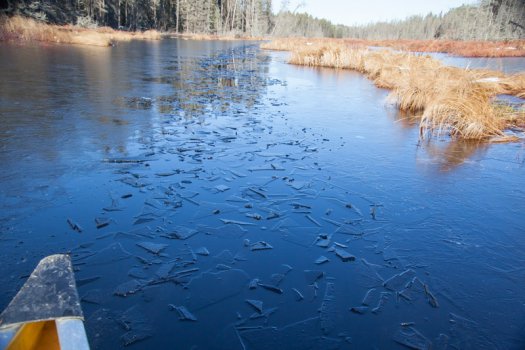 Breaking Ice on the Moose River.
Snowy Landing
Kind of the neat the way the compacted soil of the portage trail melted the first snow.
We want to hear about your trip. Share your story!