WHAT MOTIVATES US TODAY?
Piragis Northwoods Company has, over it's four decades in business, become a sort of home away from home for lots of people on the way to their Boundary Waters Canoe trips.  Ely, Minnesota is proudly the Canoe Capital of the country and we at Piragis strive to be the paddlers' best friends up north.  Having the "right stuff" in stock, displaying it attractively and greeting everybody who walks through the door with a smile and a welcome is what we're all about. 
Of course the Boundary Waters Canoe Area Wilderness is our reason for existing as a business in this place.  It's the indescribable magic of this wild land of lakes and streams that brings so many people here for adventure, solitude, and simple presence of mind.  These qualities lead Nancy and I to make Ely home after coming as young biologists in 1975 to work for the EPA.  They are the main attraction of our 30 plus staff members also.  We all take time throughout the year to renew that love of the wilds with canoe trips and hikes and skis into our favorite wilderness.
When asked what is it about the Boundary Waters that you like best, I find so many possible answers, but, the one quality of the wilderness I find most enticing is the way it makes me feel when I'm there.  It's the almost addictive presence of thought in wilderness, the focus on the now which brings me back so often.  Paddling itself is peaceful and relaxing combined with the beauty that elevates the spirit almost always leaves those, open to the experience, feeling renewed.  It's a bit of a mystery, but, if you ask Boundary Waters trippers to think deeply about the experience, whether they are birders or anglers, families, boomers or millennial's they'll find something spiritual  to talk about.  It's the sublime that makes wilderness a necessary part of our lives.  I guess that's why we're here; to bring people that sense of the aesthetic that leads, almost always, to some sort of arousal of the spiritual in nature.  Maybe it's like viewing profound art and feeling that similar type of awakening but in nature the renewal is renewed around every bend of the lake, every sunset or sunrise and and every tug on the line when dinner is at hand.     
Ultimately, we hope that all who walk through our doors and out into the wilderness will come back to join with others to act to protect the little wilderness we have left in this world.  
I hope this gives you a feeling for what we do "at the end of the road". 
JUST WHAT IS PIRAGIS NORTHWOODS COMPANY ALL ABOUT?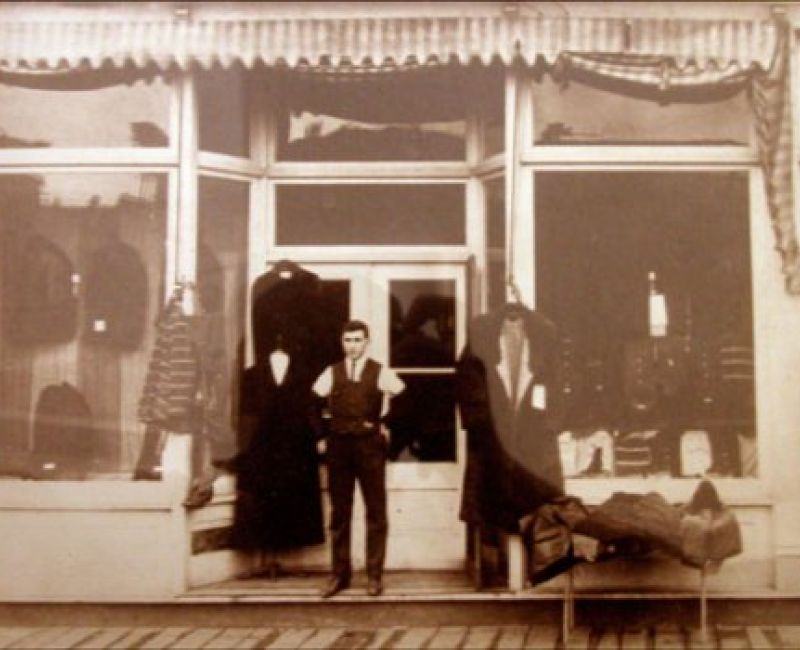 There are two pictures that hang in the store at Piragis Northwoods Company. Shots of our store that was built in the 1890's. Taken in 1905 of what was then the Bloomenson Store. 
The first is an exterior shot that shows vintage awnings and the purveyor outdoors in front of the building with guess what? hanging outside. Coats. Not our staple of windblocker fleece, but two staples of the time, wool and beaver. Nature's answer to technology. The sidewalk in front of the store isn't a sidewalk, it is a boardwalk. The other falsefront buildings across the street can be seen reflected in the window.
Original Ely. With a look of determination on its face. Promise of a bright future. Open for business and proud to stock what is needed and wanted by the people.
The second picture is an interior shot complete with gas lights and the original tin ceilings and walls. There are wool pants stacked high on sturdy oak tables. Suspenders hanging from circular displays from the ceilings. The stovepipe rises to the decorative tin covered chimney from the essential woodstove in the back. The long glass displays showcase quality men's shirts while the shelves behind are complete with rows and rows of hat boxes stacked up to the tall ceilings. Men's wool driving caps stretch out in a long row across the hat boxes, displayed just at arms reach. There are cases that hold ties, gloves and shoes. Hanging from the ornate chimney is a framed letter with an important certification seal in the top center.
Pride and promise are evident. You can find them both in our store today. Residual benefits of a long history of service commitment to customers.
The gas lights I've only seen in pictures. The display cases I recognize. Some of them survived to grace the spaces of other stores in this town in recent history. The tin walls are still in place today. The looks on the three clerks faces are recognizable too. You can see the same looks of determination and commitment on the faces of our retail staff when you visit 105 North Central Avenue today.
Piragis Northwoods Company still believes that the advantages of high quality goods and services far outweigh the short term value of "a great deal" You can tell the old Ely store owners felt the same way. They are sharply dressed and waiting to help you. Their service oriented business was driven by quality goods that deserved attention to detail and feature education. Clothing that comes with a personal shopping assistant as we say in today's shopping world.
At Piragis Northwoods Company we want you to be at home, to feel comfortable and at ease while you shop. We trust that you can find most things you need here, and hope that you know that you can ask us any question you like about our canoes, kayaks, camping gear, accessories, men's and women's clothing, books and gifts. No question will be considered too small, too odd or too silly. Our staff is on hand to serve your needs, to help you in any way possible.
Our merchandise speaks for itself, our reputation stands on our ability to serve the customer above and beyond the norm. We stay open to serve the local population year round with clothing, equipment and a full service bookstore that rivals any other in Minnesota. In the summer our doors open at 6 a.m and don't close until 10 p.m. Giving you time and opportunity to shop on your schedule. We go the extra mile because many people travel far and wide to reach Ely and all of you deserve our best. Each and every one who comes through our door deserves old fashioned, honest to goodness service with a smile. If you have a destination in Ely besides the Boundary Waters we hope that it is Piragis Northwoods Company, Your Friends in the Great Northwoods.
OUR HISTORY
In 1979 the vision of newlyweds Steve and Nancy Piragis led to the founding of what is now the successful Piragis Northwoods Company, home of the Boundary Waters Catalog. Based in Ely, Minnesota, the company began as a purchase of two canoes, one for them and one to sell. Steve and Nancy needed a lightweight canoe to navigate the Boundary Waters Canoe Area. As they expanded their small business, they researched each of their purchases and field-tested them before selling to customers. Their commitment to quality lightweight gear has remained consistent to this day. All products are tested before selling. The Boundary Waters Catalog (on paper and online) continue Steve and Nancy's original vision and twin committments to paddling and wilderness. In addition to the catalog, today in Ely, Minnesota, we have a large retail store that includes outdoor clothing, Northwoods gifts, camping equipment, a full-service bookstore, and an outlet store. It is possible for you to arrive for a trip with just the clothing on your back and be fully outfitted for a trip at the store!
Outfitting and guiding canoe trips into the BWCA Wilderness is now and always has been our focus and our specialty. We keep our group sizes small on purpose, so our clients get the personal attention they deserve and we all have a chance to experience wilderness in an intimate fashion.
What sets Piragis Northwoods Company apart from the competition is that our travels and experience in the outdoors give us a natural advantage over other outfitters in the industry. We know paddling because we take time to paddle and to use the equipment that we sell. We know adventure because we each have experienced it. As long as people have a desire for adventure and a passion for paddling, Piragis Northwoods will endeavor to meet their needs and provide a quality paddling experience.
MISSION STATEMENT
Piragis Northwoods Company is dedicated to instilling a passion in people for paddling canoes and kayaks in wilderness settings. Ultimately, our mission is to enhance the appreciation of wild shores and help to preserve nature along rivers, lakes and oceans around the globe.
BOUNDARY WATERS CANOE AREA
The Boundary Waters Canoe Area in northern Minnesota borders Canada's Quetico Provincial Park. This pristine area of over 2 million acres of island-studded lakes is accessible only to canoeists. Within the boundaries of Quetico Provincial Park and the BWCA Wilderness are nearly 2,000 lakes that are linked by rivers, creeks, and portages to form hundreds of miles of wilderness routes. Created by glaciers that last scoured the region 10,000 years ago, it is a landscape unlike any other, anywhere in the world. A place of unparalleled beauty, the water routes include dozens of waterfalls, scores of rapids, and an incredible diversity of wildlife.
Perhaps nothing better represents the wilderness than the eerie wail of a loon echoing off the shores of a dead calm lake at night. This cry awaits visitors as well as the howling of the last substantial population of timber wolves in the lower 48 states. Quiet paddlers and astute observers may also see whitetailed deer, ospreys, beavers, martens, mink, otters, foxes, and over 200 species of birds.
Along with wildlife is a remarkable diversity of plant life. Travel through vast forests of pine, spruce, and fir accented by birch, aspen, maple and oak trees. The scenery comes alive in autumn with vibrant reds, yellows and golds of the hardwoods mingled with the deep green of the conifers.
For the angler Canoe Country is a dream. The largest of several species of fish ever caught in Minnesota were taken from these waters. Whether snoozing with a bobber and worm, or enjoying the sport of fly-fishing, Piragis has a selection of just the right tackle for every fishing need.
Another essential for any trip is a camera. From waterfalls to sunsets to Indian pictographs, there is an unending variety of scenery. Wildlife, a favorite campsite, or a weary portage are all part of the wilderness experience and are memories to be captured on film.
BOUNDARY WATERS CANOE AREA
The BWCA Wilderness is one of the few places east of the Rocky Mountains where you can spend days without seeing another human being. The pristine beauty and solitude is something most people can only dream about. Age and ability are not considerations when planning a trip. The 40-lb. Kevlar ultralight canoes make travel especially easy.
After assembling a group of fellow adventurers, 6 being a good number, then the decision process begins. List the group priorities and submit them via mail or email. Based on their many years of experience, our staff here at Piragis will help with the itinerary. Unlike most outfitters, we don't start everyone on the same lake. We choose entry points to best suit your group, not necessarily the closest to the store!
To enhance the wilderness experience or if this is the visitor's first trip to the BWCA, a guide may be just the ticket. Our guides know the lakes, the history of the area, the flora, fauna, and where to catch the biggest fish. After at least one trip with a guide, future canoeing adventures will be more enjoyable because of the knowledge gained.